August 13, 2013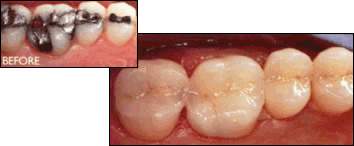 At some point, nearly everyone will get a cavity. When that happens, we hope you'll turn to Dr. Jeff Nichols and his team at Premier Walk-In Dental for help. At our Rockledge dental office, we offer tooth-colored fillings to help patients treat decay discreetly.
For many years, amalgam fillings were the treatment of choice by dentists. But today, dentist like Dr. Jeff Nichols are more likely to offer tooth-colored fillings, in part because of how well they blend in with the color of teeth.
However, there are other reasons that dentist are offering tooth-colored fillings over amalgam fillings. First, amalgam fillings are made of metal, which expands and contracts, causing cracks or leaks and putting the patient at risk of bacterial reinvasion. Second, amalgam fillings often contain a small amount of mercury—not enough to be harmful, but it's there nonetheless.
Tooth-colored fillings, by comparison, don't contain mercury and, in fact, aren't made of metal at all. That also means they won't expand or contract. As a result, they're more supportive of the tooth's natural structure, which means you get to keep more of your natural smile.
Do you need help treating a cavity with a tooth-colored filling? Call or visit Premier Walk-In Dental in Rockledge today. We serve patients from Cocoa, Satellite Beach, Merritt Island, Viera, Suntree, Melbourne, and Palm Bay, Florida.
No Comments »
No comments yet.
RSS feed for comments on this post.
Leave a comment