December 20, 2012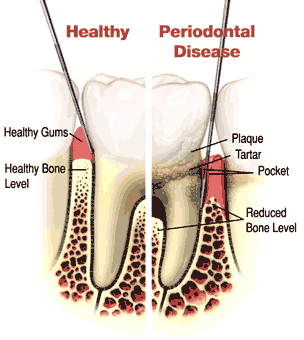 Gum disease is an important health concern. If left untreated, it can lead to serious health problems such as babies with a low birth weight, heart disease, and impotence.
Periodontitis, or gum disease, is the result of plaque that is not removed and allows bacteria to grow and affect the gums. If untreated, the gums will shrink and eventually teeth will fall out.
Since the early symptoms are relatively mild, it's very easy for gum disease to go undetected. Symptoms generally include red or swollen gums, bleeding gums, and persistent bad breath. This is another reason why it's crucial that you visit your dentist every six months for your regular checkup. Your dentist will check for gum disease at each appointment. The earlier it is detected the better.
Gum disease can affect far more than just your gums, however. According to the Mayo Clinic, the bacteria that cause gum disease can enter your bloodstream through your gum tissue. This allows the possibility for other health complications if the gum disease is left untreated.
There has been a link found between pregnant women with gum disease and low birth weight babies. Thus, it's essential that pregnant women add a dental visit to their pregnancy check list.
The American Academy of Periodontology discusses how there is a link between gum disease and heart disease. Though the connection is still being studied, it is believed that this bacteria enters the blood stream and travels to the heart and the rest of the body.
Also, a recent study has found a link between severe gum disease and impotence in men.
Gum disease can affect more than just the health of your teeth. While easily treatable, this disease could have severe complications for your health if left untreated. Regular checkups at your dentist's office could have far reaching effects on your overall health.
No Comments »
No comments yet.
RSS feed for comments on this post.
Leave a comment