December 17, 2019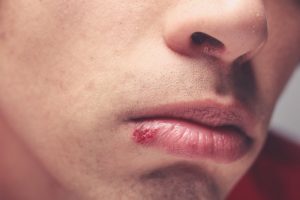 Did you wake up this morning only to notice a bright red blister or sore on your mouth? These aren't just confidence killers, but they can also result in serious illness for people who have weaker immune systems. With the proper diagnosis and treatment from your dentist, these can typically disappear within two weeks and you can prevent the infection from spreading. Read on to learn what's the cause of your mouth sore in Rockledge and how you can prevent another one from occurring.
Causes of Oral Sores
Fever blisters and cold sores are caused by the herpes virus. Although this seems daunting, it's an incredibly common infection that most people first experience before they turn 10. After the first time one of these sores appears, the virus remains inactive in the facial nerves. Occasionally, for some people, it can become active again, causing sores to appear. This typically happens due to a cold, fever, mental or emotional stress, or sun exposure. Certain dental procedures that stretch your lips can even trigger the virus, but this is most likely to happen for people who have weakened immune systems or medical issues.
Symptoms to Look For
People infected by the herpes virus may experience a variety of symptoms, including painful swelling and open oral sores. Some people even develop a sore throat. These all occur about a week after your body is exposed to the virus. Here are some additional signs that point towards a developing cold sore:
Tingling
Burning
Itching
Tiny blisters
When fever blisters form on your mouth, they pop and form more painful cold sores. These eventually crust over like a scab and shed when the sore begins to heal.
Treating the Problem
When you visit your dentist, they can diagnose the issue by examining the problem area and asking questions about your medical history. Some medicines can help these oral sores heal faster and relieve some of your pain and discomfort but are limited in the relief they can provide. These include Zovirax, Famvir, and Valtrex. They act more as preventive medication that some people take when they know they'll be under stress, like during finals week in school.
When you notice a sore, be sure to keep the area clean and apply a layer of lip balm, being sure not to touch it and spread the virus. Avoid kissing anyone or sharing eating utensils, food, and drinks as well. This will prevent further infection.
Tips for Prevention
Using sunscreen on your lips, taking antiviral medicines, and avoiding triggering situations can all reduce your risk of developing a cold sore. While these aren't dangerous, if you have a weakened immune system due to medications you take or a disease, it's important to contact your dentist immediately if you notice the early signs of cold sores.
Although oral sores can be unsightly, that's the least of your problems. With guidance from your dentist in Rockledge, you'll be able to prevent them from developing and keep the focus feature of your face your smile instead of a crusty sore.
About the Author
Dr. Sowmya Kumar is passionate about continuing her education in dentistry so she can provide her patients with high-quality treatments and care. She looks forward to being able to help her patients prevent the formation of oral issues by seeing them every six months for thorough checkups and cleanings. For questions about an oral sore that has appeared or to schedule a routine appointment, visit Premier Walk-In Dental's website or call 321-631-4334.
Comments Off

on What Causes Oral Sores?
No Comments
No comments yet.
RSS feed for comments on this post.
Sorry, the comment form is closed at this time.