January 21, 2020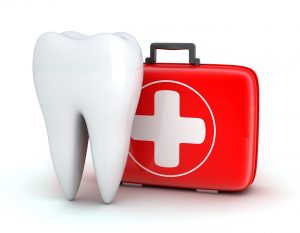 Just about everyone has a fear of knocking out a tooth, but you probably never expect it to happen to you. Believe it or not, it's more common than many people realize. In fact, over 5 million teeth are lost each year. While many are dislodged from sports-related injuries, it can occur for other reasons as well, such as from a fall or trauma to the face. No matter the cause, do you know what to do if your tooth is knocked out? You don't want to waste time Googling, "where is a dentist near me?" Instead, here's what you need to know to save your smile.
Can I Save a Knocked-Out Tooth?
Often, it's thought a knocked-out tooth is gone for good, but that's not always the case. If the tooth is intact and undamaged, you might be able to save it if you act fast. Besides providing first aid at home, it's also important you see your dentist in Rockledge within the next 2 hours. While you wait for your appointment, here's what you can do to help encourage a successful reimplantation:
Find the Tooth & Control Bleeding
Having a tooth knocked out can be a traumatic experience, but it's important to remain calm. Find your tooth and examine your mouth. If there's any bleeding, bite on a piece of gauze while proceeding with the next steps.
Hold your tooth by the crown and carefully rinse it with cool water. Don't use any cleaners or scrub it. After you've rinsed your tooth, don't dry it or touch the root.
Try to Reinsert Your Tooth
Gently try to reinsert your tooth back into the socket, placing it back into its normal position. This must be done within the first 30 minutes of a tooth being lost, or implantation will not be successful. Bite down on a piece of gauze or a moistened tea bag to prevent it from moving. You may need to use your finger to hold it in place while traveling to your emergency dentist.
If you weren't successful reinserting your tooth, you'll need to place it in a cup of milk. If you don't have any on hand, place it in a cup of tap water. Never put it in alcohol, mouthwash, or salt water.
Even if you've successfully reinserted your tooth back into its socket, time is of the essence. You need to call your emergency dentist right away for same-day care.
Save Your Smile
Your smile doesn't have to be devastated by a knocked-out tooth. Often, it can be saved if you act quickly.
About Premier Walk-In Dental in Rockledge
We treat patients of all ages who are experiencing dental emergencies. We handle even the most complex issues to restore a healthy, functional smile. We're here for you when the unexpected happens, even if you don't have an appointment. If you have a dental emergency, contact our office right away.
Comments Off

on 5 Steps to Save a Knocked-Out Tooth
No Comments
No comments yet.
RSS feed for comments on this post.
Sorry, the comment form is closed at this time.