March 31, 2020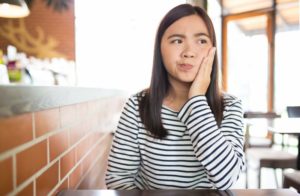 A fever is one of the hallmark symptoms of the novel virus COVID-19, but it can also be a warning sign of a dental infection. Both situations warrant urgent medical attention but require very different treatments. Should you be calling your local hospital or searching for an "emergency dentist near me?" Here's what symptoms you should look out for to determine if your fever is caused by COVID-19 or a dental emergency in Rockledge.
Not All Fevers Are Emergencies
Firstly, it's important to remember that not all fevers are a medical or dental emergency. If a common virus or unwelcome bacteria get inside your system, your body triggers a raise in temperature to combat it. Most fevers resolve on their own after a few days and can be brought down by over-the-counter pain relievers.
Symptoms of COVID-19
According to the World Health Organization, many cases of COVID-19 only develop mild to moderate symptoms. It affects different people in different ways, but the most common symptoms include:
Fever of 100°F or more
Tiredness
Dry cough
Experts only recommend seeking medical attention if you're experiencing a fever, cough, and difficulty breathing at the same time or if you have underlying health conditions. Otherwise, it's best to self-isolate and treat the symptoms at home.
Signs of a Dental Infection
A dental infection, or a tooth abscess, develops when dangerous bacteria cause a buildup of pus around or inside a tooth. If left untreated, it could kill the tooth or lead to more serious health conditions. Alongside a fever, signs of a dental infection include:
Severe, persistent, throbbing toothache
Sensitivity to temperatures or pressure
Swelling in the face, jaw, neck, or lymph nodes
You need to call your emergency dentist right away if you experience any of these symptoms. They will often be able to treat it by draining the abscess and eliminating all the harmful bacteria.
How Can I Tell If I'm Having a Dental Emergency?
Typically, you would see your emergency dentist for less dire dental situations, like a broken crown, lost filling, or aggravating toothache. In light of state-wide stay at home orders, your dentist may be able to give you step-by-step first aid direction over the phone or virtual online consultation instead to avoid the need for an in-person visit. However, they will likely encourage you to come in right away if you are experiencing severe pain, a badly broken tooth, or a tooth that's been knocked out.
Fevers are always an unwanted symptom, especially in the midst of the COVID-19 pandemic. Thankfully, it's very likely that you should be able to treat it safely at home.
About the Practice
Your health and safety have always come first at Premier Walk-In Dental in Rockledge, FL. That's why we typically offer treatment for every dental emergency that walks through our doors as soon as possible. However, in compliance with American Dental Association recommendations and state-wide stay at home orders, we have made the difficult decision to temporarily close our practice. If you are experiencing a dental emergency, please don't hesitate to reach us at our website or (321) 631-4334.
Comments Off

on I Have a Fever: Is it COVID-19 or a Dental Infection?
No Comments
No comments yet.
RSS feed for comments on this post.
Sorry, the comment form is closed at this time.