November 18, 2019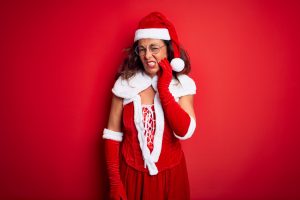 You're wrapping up the last of your holiday presents when a dull, throbbing pain shoots through your mouth. You have a toothache! Now, you're worried about your holiday being ruined. To top it all off, most dental offices are no doubt closed for the holidays, so you'll have to suffer through this pain for a few days at least. Not to worry – there are a few things you can do at home to lessen your pain until you can be seen by your emergency dentist in Rockledge. Continue reading to find out what they are.
Apply a Cold Compress
If your toothache is accompanied by swelling, you can apply a cold compress or ice pack to the area for 20 minutes at a time several times a day. This will cut down on swelling and help ease your pain. It can also be helpful if you chipped a tooth or have a loose tooth.
Keep in mind that more often than not, swelling indicates an infection that, if not treated soon enough, could spread to other areas of the body. Always call your dentist to schedule the earliest possible appointment. Even if the office is closed, someone will be checking the messages as soon as the office opens and will get you in right away.
Rinse with Saltwater
Saltwater is a classic remedy because it's safe, inexpensive, effective, and everyone has salt on hand at home. First, gently floss the area. Then, let half a tablespoon of salt dissolve in an eight-ounce glass of water. Finally, swish this mixture around in your mouth for 30 seconds before spitting. You can safely use this remedy several times a day to kill bacteria and promote healing of the soft tissues in your mouth.
Take an Over-the-Counter Painkiller
Acetaminophen is usually recommended for children's toothaches, while adults can often take the store-bought pain reliever of their choice. It should be noted that ibuprofen works particularly well for oral pain. Take it as suggested on the bottle. Avoid placing aspirin directly on the area – it could actually irritate the gum tissue and make your pain worse.
Use Natural Remedies
If you happen to have any clove oil on hand, you can apply a small amount to the affected area with a cotton swab. Alternatively, you can add a few drops to a glass of water and then rinse and spit. This remedy has been shown to effectively soothe irritated oral tissues.
Call Your Emergency Dentist ASAP
While these temporary fixes are great for relieving pain, they are just that – temporary. It's important to call your emergency dentist in Rockledge as soon as you can to get treatment and address the root of the problem.
About the Author
Dr. Sowmya Kumar graduated from the prestigious University of Florida's School of Dentistry. Since then, she has been practicing in Brevard County, FL. Her practice, Premier Walk-In Dental, offers same-day emergency appointments to treat toothaches. If you find yourself suffering through tooth pain this holiday season, contact Dr. Kumar's practice at (321) 631-4334.
Comments Off

on How to Deal with a Toothache During the Holidays
No Comments
No comments yet.
RSS feed for comments on this post.
Sorry, the comment form is closed at this time.