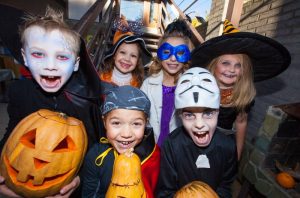 It's no surprise that dental emergencies often happen during the holidays. According to a news story from earlier today, a woman in Alabama had a pair of false teeth for a zombie costume get stuck inside her mouth. The problem was so severe, she had to go to an emergency dentist to have them removed. Overall, it was truly a terrifying experience she does not want to repeat.
To help you avoid emergencies like this, an emergency dentist is going to offer safety tips all parents should be aware of this Halloween.
False Teeth and Oral Lacerations
As mentioned, false teeth can easily get stuck due to the superglue making them impossible to remove. Imagine if a child had decided to use these teeth with their costume, only to be told they would need a real extraction later! Along with getting stuck, false teeth can easily cut the gums, resulting in extensive oral bleeding and the inability to enjoy Halloween candy for the rest of the night.
To avoid these injuries from happening, implore your child to remove their fake teeth whenever eating. If the false teeth require glue to place, avoid them entirely. If your child accidentally cuts their gums, tongue or cheeks, make sure you have clean gauze in your first aid kit. Start by rinsing your child's mouth out, then apply gentle pressure to the cut with the gauze. If the bleeding does not stop, take them to the dentist right away.
Fractured or Knocked-Out Teeth
If your child is going to be trick-or-treating at night, it can be incredibly difficult for them to see properly. This is particularly true if their costume involves a mask, only making visibility even more difficult. If they trip and fall, they can easily knock their teeth out. Even if they lose a baby tooth, it doesn't mean it's not a dental emergency.
If a baby tooth falls out prematurely, it can cause their permanent teeth to erupt too soon. This will lead to misalignment, an uneven bite and the likelihood of needing orthodontic intervention later in life.
Additionally, the candy they collect can also result in a cracked tooth, especially if it's hard and chewy. Lollipops and fruit-flavored hard candies can easily fracture a tooth if your child doesn't consume them responsibly.
To avoid knocked-out and fractured teeth, have them wear face paint instead of a mask so they have better visibility. Give them flashlights so they can see more easily at night. Make sure they only visit areas of the neighborhood that are well-lit, especially if they're near busy roads. Tell them to always use a crosswalk when walking from house to house. Instead of letting them eat hard candy, ask them to exchange it for a safer alternative, such as a standard chocolate bar.
With these tips in mind, your child won't need a tooth extraction in Rockledge any time soon. To learn more helpful advice, schedule an appointment today!
About the Author
Dr. Sowmya Kumar earned her DMD degree from the University of Florida College of Dentistry. Today, she helps patients young and old protect and care for their teeth, regardless of the season. To learn more about her practice and preventive treatments, you can contact her through her website.