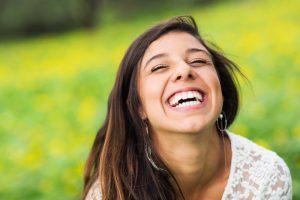 Whitening your teeth is a great way to make your smile look more youthful and to enhance your overall appearance. It's a quick and painless procedure, and you can decide between in-office and at-home teeth whitening treatments based on your schedule, budget, and personal preference. Keep reading to learn more about what to keep in mind as you make your choice — your cosmetic dentist in Rockledge has everything you need to know about teeth whitening!
In-Office Whitening
An in-office whitening treatment is completed in a single appointment at your dentist's office. This is a wonderful option for patients who wish to reveal their results quickly, perhaps in preparation for a big event — like a wedding or reunion.
The process works like this: first, a qualified dental hygienist will cover up your soft oral tissues (lips, cheeks, tongue, etc.) to protect your smile as whitening takes place. Then, the bleaching gel is applied to the front surface of each of the teeth that show. This high-powered solution is allowed to work for about 20 minutes before it is removed — and that's it. A topical fluoride treatment may be used to reduce sensitivity after whitening.
At-Home Whitening
Some patients may prefer an at-home whitening treatment. This process takes a bit longer, but a professional at-home kit can produce the same results as an in-office treatment. Most at-home whitening treatments are completed over the course of 2 weeks. Your dental team will create a set of customized trays to fit tightly around your teeth. These trays will be filled with the high powered gel and worn for approximately 30 minutes each night.
At-home whitening can be used as a standalone treatment or to complement in-office whitening. If you start to notice that your teeth have lost their luster after a year or two after an in-office procedure, you can select this option to bring them back to their full sparkle from the comfort of your own home.
Which One Is Right for You?
You can talk to your dentist about whether you are better suited for in-office whitening or an at-home treatment. In general, an having it done in the office may be best for you if you answer YES to one or more of the following:
You have severe dental stains or discoloration.

You want to whiten your teeth as fast as possible.

You have a little extra in the budget to spend on teeth whitening.

You are ready to flash a dazzling white smile!
Whichever method is best for you, most people agree that getting their teeth whitened is a great investment. To learn more about your options, don't hesitate to get in touch with your dentist about teeth whitening in Rockledge.
Meet the Practice
Premier Walk-In Dental offers superb care for all your dental needs — including cosmetic treatments like in-office teeth whitening. If you are interested in revealing your whitest, most beautiful smile, don't hesitate to get in touch with this team by calling the office at (321) 631-4334!