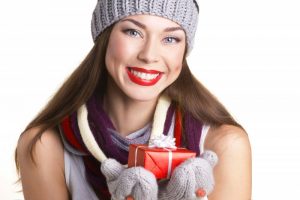 Is your smile looking less and less bright over the years? The holidays are the best time to give yourself a gift that you'll truly love: a whiter smile! Everyone can benefit from stains being lifted from their teeth—especially you! You'll feel more confident and won't want to stop showing off your improved smile.
If you're ready to make improvements to your teeth before the end of the year, feel free to reach out to your cosmetic dentist in Rockledge. Start 2018 with newfound self-esteem and smile aesthetics!
Lear About In-Office Teeth Whitening
If you want immediate results in just one day, in-office professional whitening treatment is for you. Your local dentist uses only the best, high-quality products to brighten your smile in just one appointment. As the most preferred choice for teeth whitening, your teeth will become up to eight shades lighter in just about an hour or less!
To begin the treatment, your dentist will prepare your lips and gums to protect them from irritation with a helpful mouthpiece. Then, your dentist will apply the high-grade hydrogen peroxide solution to the teeth in the form of a gel. A special light then activates the whitening agents in the gel to start lifting stains.
The gel will remain on your teeth for about 15 minutes. Afterward, we will take a short break before completing following treatments until you reach your desired results. In as little as one appointment, you will walk out of our office with a new reason to smile this holiday season!
Get Your Teeth Whitened by a Pro!
If you want your smile to truly look better before you see all of your friends and family during the holidays, trusting your dentist with your teeth whitening is the best decision you can make. Not only will your gums and soft tissues be protected from any harsh bleaching products, but you can be confident that you'll receive the results you want.
Rather than trying countless over the counter products from your local drug store, visit your local dentist for a one-stop shop for a brighter smile.
Get a New Smile for the Holidays
With the holidays quickly approaching, now is the perfect time to start the holiday season off right with a younger, brighter smile. Give yourself an early present with better oral health and aesthetics. We offer the professional teeth whitening in Rockledge that you need to brighten your smile. We provide results that are proven to last.
---
About Our Office
Here at Premier Walk-In Dental, we know that patients want to look their best all the time—but especially when they're going to be around friends and family. We have you covered when you visit our office for a teeth whitening appointment. Feel free to contact our friendly office team to schedule your next cosmetic appointment with one of our dental experts.