July 30, 2019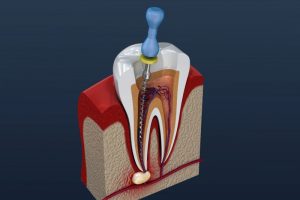 No one likes having an infection, especially inside their teeth. An infection in pulp tissue can spread to the bone or tissue below the tooth and cause a dental abscess. This can lead to sepsis, an often-fatal reaction to infection. However, a root canal in Rockledge can prevent sepsis from occurring by stopping the infection while it's still located inside the pulp of the tooth. Keep reading to learn how to recognize and prevent a dental abscess.
Signs of a Mouth Infection
Contact your dentist if you experience any of these signs:
Tooth pain in Rockledge
Sensitive teeth
Fever
Bitter taste in mouth
Swelling in the gums, jaw, or glands in the neck
Bad breath
Infection After Dental Work
When someone receives dental work, such as a tooth extraction, a filling, or a root canal, it may cause bleeding and an opening where bacteria can enter and wreak havoc on their system. This is why it's recommended to go on antibiotics shortly before and after getting dental work done, especially if you have a condition like diabetes, heart disease, or HIV/AIDS, all of which can compromise your immune system. Tell your dentist about any conditions or medications you are on that could interact with the antibiotics, just to be on the safe side.
How to Prevent Dental Infection
Preventing infections in your mouth can lower your likelihood of contracting sepsis. Keeping up a good oral hygiene routine is the best method of doing so. Integrate the following steps into your daily life to keep your teeth healthy and prevent a dental abscess:
Gently brush your teeth at least twice a day with fluoride toothpaste and brush with soft bristles.
Floss between your teeth at least once every day, ideally after every meal or snack.
Never use your teeth to open packages or carry things. Your teeth are strong, but they are not meant to be used as tools.
Visit your dentist's office at least once every six months for a professional cleaning and checkup. Your dentist can diagnose problems early enough that they never have a chance to turn into a abscess.
If you have recently had dental work done, watch for the signs of infection listed above. Tell your dentist if any of them sound familiar, and they can work on protecting you from sepsis and saving your life.
About the Author
Dr. Julie Fox earned her dental degree from the Ohio State University College of Dentistry. She has been providing excellent general dentistry to patients in the Rockledge, FL area at Premier Walk-In Dental for the past two years. To learn more about how to prevent dental abscesses, contact Dr. Fox at (321)-631-4334.
Comments Off

on A Root Canal in Rockledge May Cure a Dental Infection
No Comments
No comments yet.
RSS feed for comments on this post.
Sorry, the comment form is closed at this time.