March 23, 2020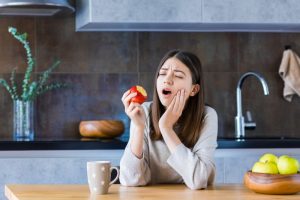 Tooth pain can be a sign of a variety of issues, some of which are serious, and some that can be taken care of at home. Depending on what's causing your discomfort, you may require care from an urgent dentist in Rockledge. The best way to find out is to call their office and get their opinion. In the meantime, you can tackle your discomfort at home by trying these five remedies for oral pain listed below.
Use a Cold Compress
There are two predominant ways to help ease tooth pain. The first is to bring down any swelling, and the second is to stop the signals in your mouth from travelling to your brain to sense the discomfort. An easy way to tackle both of these at once is to place an ice pack on the affected area of your mouth for 10 minutes on and 10 minutes off. This will help ease some of your pain and bring down any puffiness.
Take an Anti-Inflammatory Medication
Another great way to reduce swelling is to take a store-bought anti-inflammatory medication, such as ibuprofen. It's a good idea to follow the directions printed on the label and continue taking the medication every few hours to help keep you comfortable. If you stop taking it as soon as your pain is relieved, it's likely to return. If your toothache is caused by an infection, be sure to not take aspirin, because it could burn your gums if it comes into direct contact with them.
Rinse With Salt Water
You can easily clean oral infections that may be causing your toothache in Rockledge by rinsing with a salt water solution for up to four times each day. It will help bring down any inflammation, heal oral wounds, and even temporarily relieve your pain. Just be sure not to accidentally swallow it while you're rinsing. Place a teaspoon of salt in a cup of boiling water.
Place a Peppermint Tea Bag On The Area
Peppermint has a unique numbing property that can help ease your discomfort. You can use it by soaking them in water and placing them on the affected tooth. Some people even like to place them in the freezer for a few minutes beforehand to create a cooling, pain-relieving effect.
Use a Dab of Clove Oil
Clove oil has been used in the past to help reduce inflammation and numb certain areas of the mouth. It contains something called eugenol, which is an antiseptic that can sterilize an oral wound. All you need to do is place a small amount of clove oil on a clean cotton ball and dab it onto the affected area of your mouth. You can also dilute the oil with water if it's too powerful.
Don't Forget To Visit Your Emergency Dentist!
If you ever find yourself experiencing oral pain, it's important to address immediately, especially if it doesn't subside. Many toothaches are caused by serious infections that can spread if they're not treated in a timely manner. While you're waiting to see your emergency dentist, you can use these five pain-relieving remedies to travel in comfort until you reach their office!
About the Author
Dr. Sowmya Kumar is a highly experienced emergency dentist who understands that accidents happen, which is why she offers same-day emergency dental procedures for her patients experiencing pain. For years, she has treated patients of all ages and has helped restore their smiles and get their oral health back on track. For questions or to schedule an emergency appointment, visit Premier Walk-In Dental's website or call 321-631-4334.
Comments Off

on 5 Ways to Combat Tooth Pain At Home
No Comments
No comments yet.
RSS feed for comments on this post.
Sorry, the comment form is closed at this time.